Showing all 3 results
What makes a good Hire Wetsuit?
1. THE FIT. It must fit tightly and snug. The most expensive wetsuit in the world will still feel cold if it doesn't fit you properly!
2. THE STITCHING. There're two main types of stitching these days, Flatlock Stitching and Blind-stitching. If you want to be the warmest you can be, you need Blind-Stitching! This is where the seams are first glued together creating a watertight bond, and then stitched from just one side. No holes right through the neoprene are made in the process. You are unlikely to ever find a 'Blind-Sticthed' wetsuit for under £100.00.
3. THE BRAND. Yes it's true, brands matter… Some brands have access to higher quality neoprene than others. Some brands even pay more attention to details such as panel placement and seam placement to maximise stretch and eliminate rubbing. Established brands have years and years of knowledge behind them and can offer much better wetsuits at competitive prices. The brands we have chosen to stock by choice for over a decade are C-Skins and Alder.
We tick all the above criteria in our choice of Wetsuit for Hire. The Alder Stealth (Blind-Stitched) and the C-Skins React (Blind-Stitched) We have hundreds in stock and will find you the correct fit and size once you come into the Shop In Croyde! We don't ask you to choose your size online as it is rarely the right size when you turn up! We like to see you first!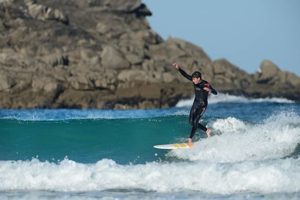 Social Media
Follow Us on Instagram or Facebook!
You can also view our Youtube Channel HERE