Contact us: Phone: 01271 890453 (9am-5pm)
Contact us Out of hours/Emergency/late return Call Sam on 07805638699 or Steve on 07818423498 (late hire returns could be subject to an extra charge)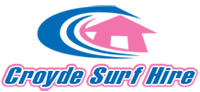 Thinking of Hiring your surf gear with us? Here's why you should.
1. Free Roof Racks fitted whilst you wait. (2 Mins)
For a start, let me just mention our free roof racks and the fact you can park outside whilst the staff fit them for you! This has proved invaluable to our customers when the surf is firing at another beach other than Croyde! We also sell these Bulldog Softracks here if you'd like to be self sufficient.
2. Independent and Family Run.
We are a locally-run (Father and Son) Surf Shop that specialises in hiring and selling surfing hardware. Hundreds of surfboards and accessories paired with friendly and approachable staff that have diverse and expert knowledge about the surfing industry. Whether or not you are a surfing pro looking for something specific, or a surfing beginner new to the sport, Croyde Surf Hire has got something for you. Staff will be more than happy to offer free advice so ask questions and we'll provide a helping hand to every person who walks through the door! Little Pink Surf Shop has long been a popular one-stop-shop for surfing locals as they stock up on essentials and stay up to date with the sport's latest gear.
3. Located in the perfect spot between Three World-Class Beaches!
Little Pink Surf Shop is located in the heart of Croyde village. Picturesque and full of old-world charm. The shop is just a short walk away from the world-famous Croyde Bay, known for its spectacular waves at low tide. This places the shop in an ideal location for surfboard hire, as you will not have to carry your boards very far to the water. Our location is also easily reached from other popular spots in North Devon, such as Saunton Beach, Woolacombe Bay and Putsborough Beach. Pop in and browse our custom stickers, second hand surfboards and of course, all the lovely new surfboards and wetsuits! We hope to see you soon! – Sam
4. Sam and Steve love Surfing, Volkswagens and Caribbean music.
Come and say hello in your Classic VW! We have a vast catalog of customer photos with their VW's parked outside the shop. We also have vintage VW stickers for sale (Around 30 years old) from our trading days at VW shows throughout Europe.