– WE BUY ANY SURFBOARD –
'We Buy Any Surfboard' Is operated from within Croyde Surf Shop. If you have a Surfboard For Sale, please bring it in for a Free Valuation. Buying and Selling Used Surfboards does require some careful considerations so if you'd would like to sell us your surfboard, read below for rules, conditions, and restrictions. Thank You!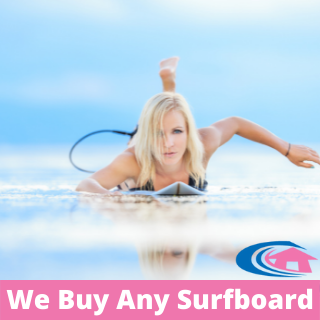 Please read this page carefully before contacting us. Thank you
Surfboards We Can't Buy
1. No stolen surfboards. You must be the owner of the board you are selling (ID and phone numbers will be recorded)
2. No boards that have been buckled or snapped in the past
3. No boards with delam
Note, If certain shapes or sizes are slow moving we may not offer to purchase your surfboard until we clear of our current stock. We will still take down your information and be in touch once the stock is moving.
How much can you expect for your board?
Offers will reflect the re-saleability of the Surfboard. Factors include the Surfboards Age, Colour, Size and Shape. Please note that we are VAT registered and this will also be a factor to the offer we could make.
My Surfboard is damaged. Can I still sell it to you?
Dings, compressions and small amounts of damage are often still acceptable, though offers will reflect the fact that we may have to pay for the repairs.
Social Media
You can send us pics of your Surfboard Pictures via Instagram or via our email ([email protected]) We can also discuss your board on the phone – 01271890453