Putsborough Surf Hire
Surf Hire Putsborough – If you are thinking of surfing at Putsborough Beach, we have the largest range of surf hire equipment in North Devon, at competitive prices. We will show you all the Surfboards and Wetsuits to choose from and offer you our FREE Roof Racks. We fit these for you whilst you wait (2 mins) For Putsborough Beach we recommend our Beginner Foamies or our Torq Surfboards . We also hire great Alder Wetsuits in different thickness' to suit all sea temperatures.
Free roof racks – Fitted by our staff right outside whilst you browse our Warm Robie Robe Dry Robes
We provide our North Devon Surf Hire customers with free roof racks to enable them to travel easily to the best beach on any particular day. These are safe and fitted by the shop staff. We also sell them here! So with your boards safely fitted to your roof, head over to Putsborough Beach for your session!
We have been operating out of our Little Pink Surf Shop in Croyde since 1987 and will assist you in choosing the correct equipment for your ability, the wave type and time of the year. We will make sure you are toasty and warm in one of our quality wetsuits. We also have Boots, Gloves, Hoods and all kinds or surfing accessories.
Putsborough is one of the best beaches in the South West for Beginner and Intermediate surfers. The beach is flat and the waves are slow and sloping which makes it easier to ride. The rolling white water nearer the shore is soft and easy to manage, as opposed to the waves at somewhere like Croyde which can be powerful and fast. Perfect for a Beginners Foamie Surfboard. Why not try our new Tiki GRIZZLY!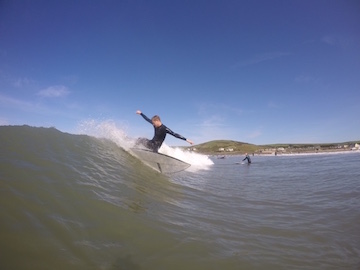 For the more Experienced Surfers
If you would rather catch some green waves further out the back, there are great waves to be had along the entire beach. It's three miles of quality waves on it's day! If you keep going you will end up at Woolacombe Beach for more epic waves!
Putsborough has relatively few rips. When it gets bigger it can drag you sideways somewhat…. Best waves are often right in front of the car park.
So, pop over to Croyde and grab your Surf Hire Equipment, whether it is a surfboard, wetsuit, or body board, we stock everything you will need for a fantastic surf at Putsborough.
Feel free to email any questions about surfing Putsborough and hiring equipment, Sam and Steve will be more than happy to assist. They have years of combined surfing and surf hire experience.
Click here to hire equipment for surfing Putsborough now!