Showing all 5 results
Surf Hire Packages
Online Surf Hire booking has never been easier. We have set up three categories for weekly bookings that save you a heap of money!
1. The Gnarly Grommet (Saves £58!)
The Gnarly Grommet – This is for those kids under 18 who want to spent their week ripping up the waves whilst Mum and Dad top up their tan. 7 full days with all the kit you need including a fitted Wetsuit, Endless Surfboard Choice, Wetsuit Boots and a Bar of Sexwax.
2. The Solo Surfer (Saves £38!)
The Solo Surfer makes hiring multiple items much quicker and cheaper! Pay once then spend the week trying Beginner Foamies, Torq Surfboards, Bics, Longboards and more! Wetsuit, Boots, Surfboard and Sexwax all included.
3. The Family Frother (Saves £232!)
Yes that right… Family Surf Hire for the week with all the kit gets VERY expensive. With our Family Frother Deal you get so much more at far less of a cost. All of the four members (2 Adults 2 Kids) will get a Surfboard of their choice, Wetsuit, Boots, and a block of Sexwex. Boards can be changed anytime!

This offer is the first of it's kind. Take full advantage and use all our kit all week!
HIRE PASS – WEEKLY DISCOUNT
Follow us on Instagram and Facebook
Check out our Youtube!
Surf Hire Group Discounts
At Croyde Surf Hire we like to make things easier for larger groups to book their Croyde Surf Hire together without the stress. We have a range of discounts available depending on the size of your group.
How many people qualify as a group?
Groups of 5 or more people will qualify for discount. This MUST be pre arranged and booked in advance over the phone (01271 890453)
How to get the discount
We will need to speak to you on the phone (01271 890453) We will require one payment for the group total over the phone. The number of people in the group will determine the amount of discount given.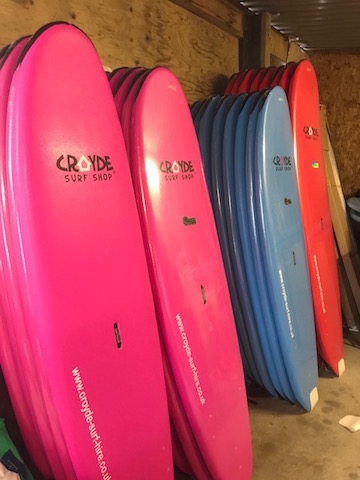 Contact Us
You can email us at [email protected] or call us on the phone (9am-5pm) 01271890453 and we will be happy to discuss your group hire. Remember a group must be pre booked and paid for in advance in one go. Please see our Terms & Conditions regarding our refund policy.
Social Media
You can follow us on Instagram or Facebook. You can also watch our Youtube Video here!