CROYDE'S PINK SURF SHOP PAST TO PRESENT.
Croyde's Pink Surf Shop originated when Steve took over Moorside Newsagents from next door neighbour in 1987 and quickly realised he far preferred to talk Surfboards and Wetsuits rather than Sunday papers and Marlboro Light Superkings. This was to be the start of his Surf Shop in Croyde. But in 1995 the shop was knocked down and re-built. But what colour should it be?! Read on to find out…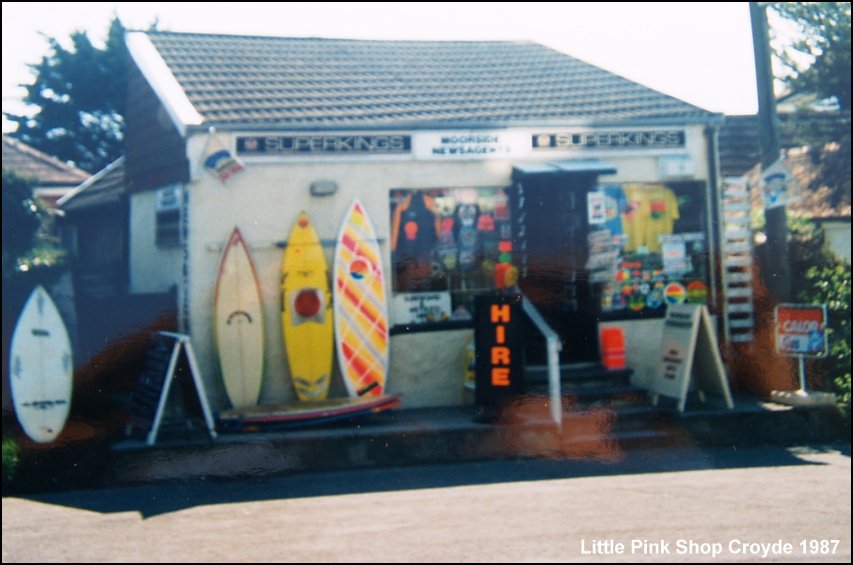 Steve's passion for surfing and travel saw him visiting the Caribbean during the winter months where he fell in love with the colourful Chattel houses, the friendly people and of course the music! This spilled over into the Surf Shop and rumour has it, this is where the pink colour has come from. Homage to the colourful chattel houses in Tobago and other caribbean islands. We were from then on, affectionally known as The Little Pink Shop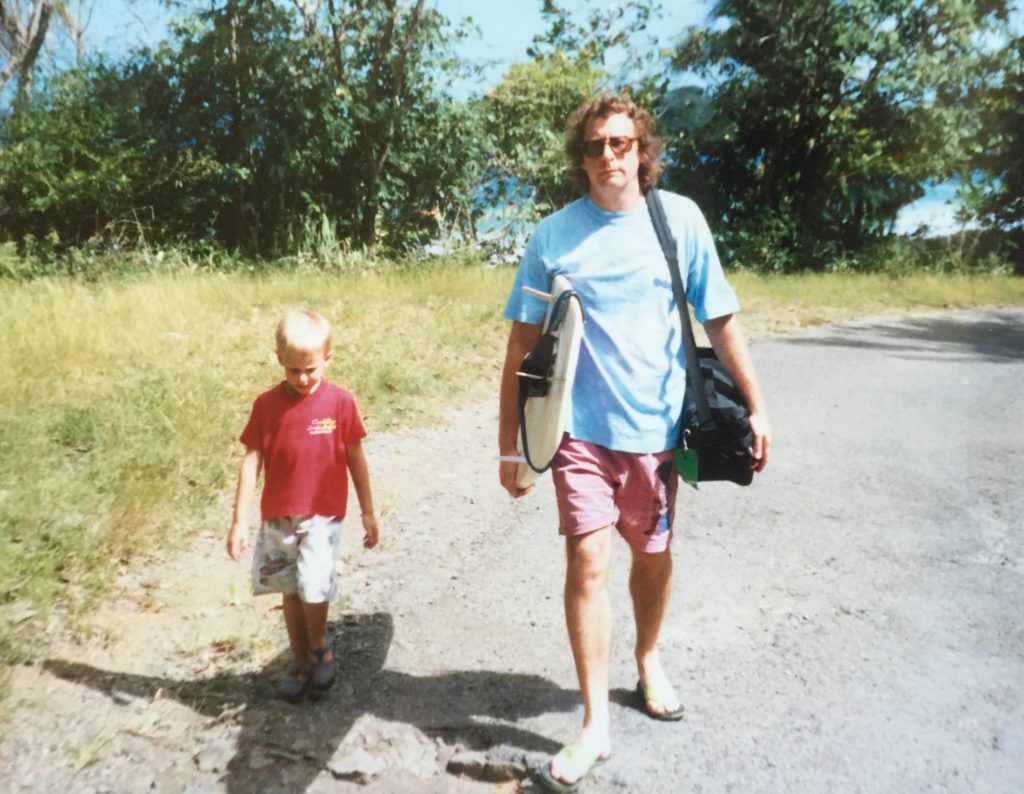 25 years later (2011/12) Steve's Son Sam (pictured above age 7) joined the family business. Following in his Fathers footsteps, Sam also started to gain some experience of the Caribbean and was keen to keep that colourful link alive. Our Surf Shop remains pink to this day. As you walk past you will almost certainly here Soca music and Reggae floating in the air. Around this time, Steve decided to launch a fresh new website dedicated to surfboard and wetsuit hire. www.croyde-surf-hire.co.uk was born!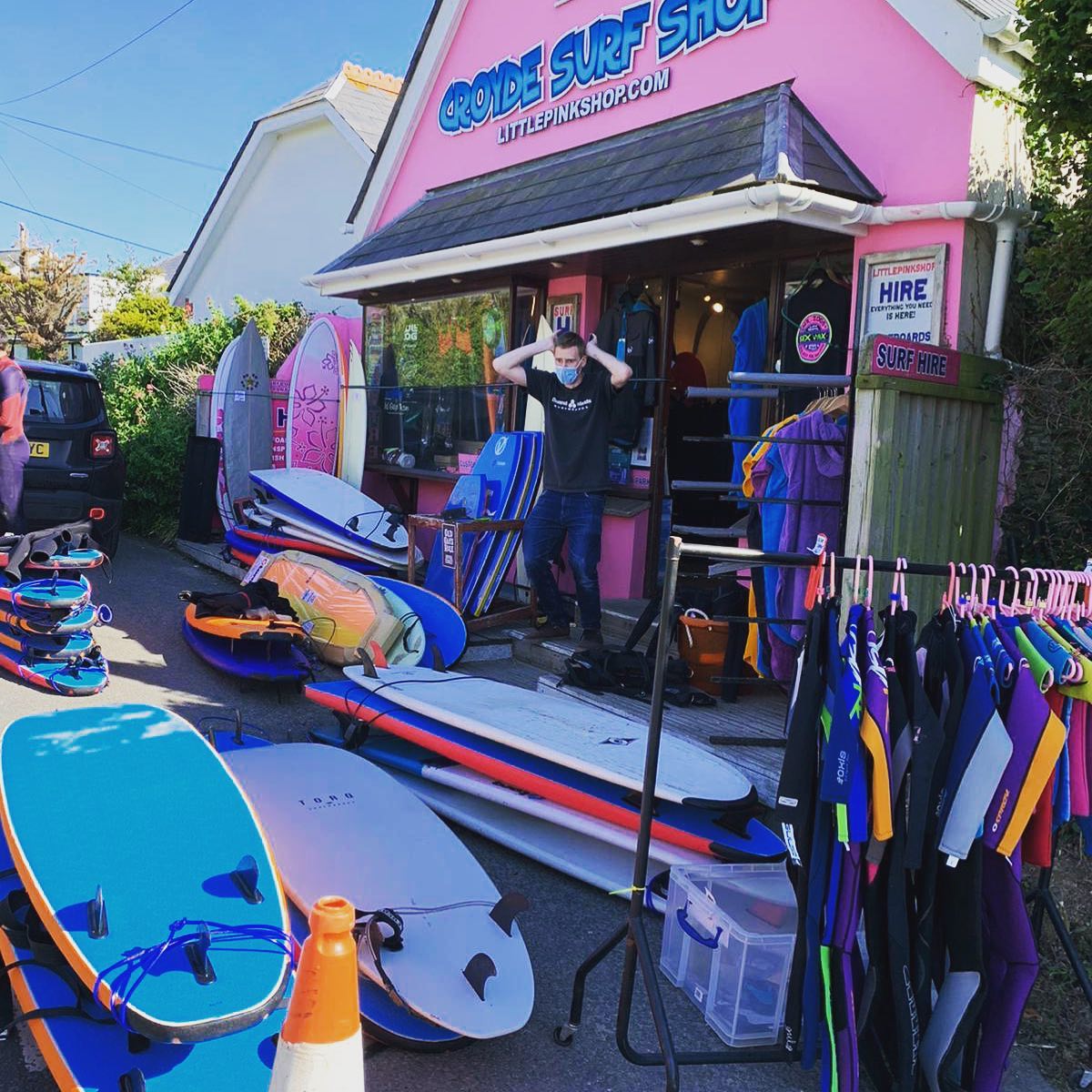 What about now?
Nowadays, Steve's Son, Sam can be found in the Croyde Surf Hire shop most days. Following in his Father's footsteps he loves Caribbean vibes, good music and surfing. He has a passion for sharing his surfing adventures both from abroad and here at home Surfing Croyde Bay at low tide. He will spend a great deal of time helping people who are new to surfing with the right kit to buy and the best places in the local area to surf. He will also fit roof racks to your car free of charge to make sure your trip around the North Devon local beaches is easy and safe.
So here we are, 2021/22. 34 years of The Little Pink Shop aka Croyde Surf Shop. We're still pink and we're still happiest when listening to reggae/soca/calypso music, whilst helping families, couples and solo surfers enjoy the ocean and the local beaches, Saunton Beach, Putsborough Beach and of course, Croyde Beach. Sam and his Wife Jess have now started a family and their two Son's will grow up with a pretty cool history. Who knows, in 20 years time it could be them running Croyde Surf Shop! We certainly hope so!